Latin Leader...
Dee Rovira South and Central American Travel Association


No one has worked more diligently to promote Latin American tourism in the past year than SATA's energetic coordinator Dee Rovira. She's planned, organized, and implemented the most productive year in SATA's history. Bravo Dee!!


---
TAM Brazil Airpass...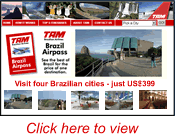 LatinTravel.com, in co-operation with TAM Brazilian Airlines, now offers the Internet's most comprehensive, city-by-city overview of Brazil's leading destinations.



---
GlobalPass offers customers the ability to use Miles as Money, in other words, use your frequent flyer miles as a form of payment.
Frequently Asked Questions
---

Answers to the ten most frequently asked questions
concerning travel to Latin America
1. How much will it cost?
2. What documents will I need?
3. What are inoculation and health requirements?
4. Should I drink the water?
5. How are accommodations?
6. When's the best time to go?
7. What should I take?
8. What about money, credit cards & ATMs?
8. Is it best to join a group or travel alone?
10. What's the best way to travel to South America? 1. How much will it cost?
Normal, average cost of a day in most South American capitals including a four star hotel room and three good meals will probably run under US$100 per person, sharing a twin room, or about what a some Caribbean cruise ships cost per day. Notable exceptions are South America's very large cities (Sao Paulo, Buenos Aires, Caracas, Rio, Santiago) where costs are substantially higher and comparable to major U.S. cities. If you stay away from the big, business travel hotels (generally the five star properties) you'll find Latin America very affordable. Best way to convince yourself Latin America is a great travel bargain is to compare the rates for any hotel chain in Europe with their properties in Latin America (try Holiday Inn or InterContinental, for example).

Move down to a first class or three star Latin hotel and you should be able to travel comfortably for under $75 per day meals included. Three star hotels should cost no more than $50 to $60 per night for a twin (and often far less). Meal prices in good first class restaurants are roughly: continental breakfast $4 (or included free in many hotels – and all hotels in Brazil), lunch with a beer or two $7-10, and dinner with wine $15 tops. Double these prices at the finest restaurants and tourist traps.

Students and backpackers can, of course, cut these costs to rock bottom . Safe, clean, low cost cost hotels and hostals in cities like San Jose, Costa Rica and Lima, Peru often start as low as US$6 per night with private bath. Generally the smaller the country, the smaller the town, the smaller the cost. Travel in the interior of most Latin countries and food & lodging can be less than US$20 per day. And if you speak Spanish or Portuguese all prices instantly drop even lower. Also, good language schools in several countries offer their students homestays for less than $20 a day including all meals.


HOME

2. What documents will I need?
All Latin countries require U.S. citizens to have a valid passport. Brazil, El Salvador and Paraguay also require U.S. citizens to have a visa issued before arrival. Most countries that require a tourist card for entry have made arrangements for airlines to issue them on arrival or departure (usually for a few U.S. dollars ). Chile charges a US$100 fee for a first time arrival stamp that's good for the life of one's passport.
HOME

3. What are inoculation and health requirements?
No inoculations are currently required for entry into any Latin American country, but always check for any late advisory at www.travel.state.gov/travel_warnings.html Travelers with heart or respiratory conditions planning travel to high altitude cities (La Paz, Potosi, Cuzco, Quito, etc.) should check with their physician before departure. A good travel health website is www.thetravelclinic.com
HOME 4. Should I drink the water?
No. Best advice is to drink bottled water. Safe, reliable bottled water is now available throughout Latin America. In restaurants insist the bottle be opened at your table. Bottled soft drinks and beer are plentiful, inexpensive, and recommended.
HOME 5. How are accommodations?
They range from budget to deluxe, from no star to five star, and everything in between. A great many new, deluxe hotels and resorts have opened throughout Latin America in the past 10 years. You'll see familiar international chain hotels in most major cities: Sheraton, Hilton, Sol Melia, Hyatt, InterContinental, Best Western, Holiday Inns, etc. In resort areas there are now many all-inclusive resorts like Club Med.

Today most Latin American three and often two star hotel will offer private bath, security, and have earned their rating from the country's tourism board. Budget travelers will find downright cheap hotels and rooms near bus and train terminals, and if they're listed on the country's official tourism website that means they, at least, have usually been inspected.
HOME

6. When's the best time to go?
We get asked this question so often you'll see our special "weather almanac" listed on each country overview page. The almanac chart will give you the gateway city's weather month-by-month. Latin America is really pleasant to visit throughout the year. Most countries are temperate year 'round – with the exception of the extreme south in Chile and Argentina, and the high Andean altitudes. Only at high altitudes and in extreme southern South America will temperatures dip below freezing. Many countries have vertical climates – tropical to mountain – so you can actually pick your temperature.

Remember seasons are reversed in South America. Winter, for example, south of the equator begins June 21 and continues until September 20. South America is known as the "Green Continent" for good reason.
HOME

7. What should I take?
The classic travel rule applies to Latin America – "take half of what you think you'll need, and take twice the money you think you'll spend." Any clothing or item you might forget to pack will be readily available in the new big malls throughout all countries. In fact, shopping is often such a bargain in Latin America that one should leave plenty of space to carry new purchases home. For example, at higher altitudes (Quito, Cuzco, Machu Picchu, La Paz) it will be cool year 'round – but in each place alpaca sweaters are such a good bargain it's foolish to pack a sweater from home.

Also, as a general rule, Latin America is rarely formal. In fact countries like Brazil are downright informal. One may dine almost anywhere throughout Latin America in casual attire, and the beach resorts (Rio, Cartagena, Vina del Mar, etc,) are very casual.
HOME

8. What about money, credit cards & ATMs?
It's helpful to have a small amount of currency when entering each country. Because many currencies fluctuate daily it's best to wait until arrival to convert cash or traveler's checks into currency. Every international entry point will have at least one money exchange.

VISA is Latin America's leading credit card, and is accepted just about everywhere in all countries. You'll find it indispensable - even in remote areas. Also 24-hour ATMs are in capital cities, and nearly all major Latin towns. Don't take a lot of cash, and what cash you do take make sure the bills are new or unmarked as many exchange houses won't accept "soiled" money.
HOME

9. Is it best to join a group or travel alone?
That's really up to your personal preference. Many large tour companies offer group and escorted tours that are often exceptional bargains (because they negotiate special tour airfares, and low net rates from hotels). However, individual or independent travelers can easily go it alone, and will usually find reliable help at most airports from government tourist offices and hotel reservation booths, and often airline personnel.
HOME 10. What's the best way to travel to South America?
Fly! Distances are great in Latin America. While surface and sea travel are an option, the vast majority of international travelers go by air. If you have the time a good alternative can be cruise companies that allow you to join ships at ports throughout Latin America. There are also some fly-cruise programs that allow one way by sea, the other by air.

Airline service to Latin America has expanded greatly in the past few years. Major gatway cities to Central & South America include (in order of popularity): Miami, New York, New Orleans, Dallas/Ft. Worth, Houston, Chicago and Los Angeles. American, Continental and Delta are the leading U.S. carriers, and nearly all Latin Countries have their own flag carrier that serves the U.S. A good question to ask a Latin American airline is if they're a member of AITAL (Associacion Internacional de Transportes Aereo Latinoamericano), the Latin American equivalent of the Air Transport Association in North America. AITAL carriers meet high standards.

If you're looking for rock bottom fares from Latin carriers check, for example, the national flag carrier(s) of the country you wish to visit: Argentina-Aerolineas Argentinas or Southern Winds; Brazil-TAM is our reccomendation; Bolivia-LAB Lloyd Aero Boliviano; Central America-TACA; Chile-Lan; Peru-Lan Peru, and Venezuela-Aeropostal. These carriers often have their lowest bargain fares on the Internet. Best prices are from major gateway cities. All Latin airlines have websites you can find in each country section of LatinTravel.com. Also always check for bargain-priced area fares in the larger countries called, for example,: "Visit Argentina," "Visit Brazil," "Visit Chile," etc. These special fares are offered to international travelers only, and allow multiple cities at very reduced rates.